Independent Game Development is the process of creating a video game by an individual or small teams with little or no funding. Development of these independent video games, or indie games as they are more commonly called, "is undertaken by a game developer, which may range from one person to a large business."  Since the resurgence of the Pokémon game series in the form of Pokémon Go, itself a AAA game—meaning it was funded by a publisher with a high budget (Niantic)—there has been an increased interest in game development, especially in the area of Augmented Reality (AR).
Since its launch in July, Pokémon Go has set five world records, including the most revenue grossed by a mobile game in its first month and the most downloaded mobile game in its first month, according to Guinness World Records.
Damian Wolf's article, "How an Indie Developer Could Have Built Pokémon Go" makes for an interesting read on the subject. But while Pokémon Go is riding the popularity train at the moment, indie game developers are busily developing games to topple the reigning king of video games.
And before you think the idea is far-fetched, throwback 2008, when a little indie game called, Braid took the market by surprise. In the first week of its release it had fifty thousand downloads. Then there was the 2010 surprise hit Minecraft, which in 2011 sold almost a million copies. Suffice it to say, it's not unprecedented, and as Luke Plunkett points out in his article, Why Minecraft Is So Damn Popular, "there's room for plenty more games like it."
Indeed, there is. And that's why some of these gamers are busy developing games on the LIVE social platform, Livecoding.tv. There, a community of engineers from over 194 countries code in real time.  Livecoding is a useful site to learn more about game development and to watch developers race against time to build the next "big" game. PhanXgames, from Washington DC, is currently working on RpgLegend, a multiplayer 2D Retro MMORPG.
But there are many other gamers–all vying for the position to beat Pokémon Go. However, there are 24 upcoming indie games which can beat Pokémon Go when released. Here then, are the 24 Upcoming Indie Games Which Can Beat Pokémon Go:
Icarian Conflict is set in the near distant future and has a mixed style of different games to give you the ultimate thrill in shooters. Features include detailed and intricate weapons customization; multiplayer campaign; and 2 -3 Faction from which to choose. Expect battles to last anywhere from 30 minutes to a week! The creator is Lethal Lens Productions, founded by Kenny Gazko in 2012.
Aragami is a stealth game created by David León,  in which you play as an undead assassin with the power to control the shadows. Aragami is an undead assassin with supernatural abilities who is summoned from the grave by the mysterious spirit, Yamiko. Between him and the answers to his fate lies the Kaiho – The army of Light – who guard Yamiko inside their heavily fortified citadel of Kyûryu. You can teleport to any shadow, become invisible, materialize weapons or even summon a shadow dragon to infiltrate the enemy ranks and dispose of your targets. Your goal is to manipulate the dark, become the perfect assassin, and reach Yamiko to discover the secrets hidden in your past. The game has already been released at the time of writing.
Deul is a fun, fast-paced, action-packed, reaction-based game with a physics backend. It makes gun slinging both challenging and rewarding, all while having fun. Deul offers single-player game modes with achievements, customization, and leader boards, including a monthly prize to the top score! It was developed from start to finish by Artyom Naumov of Tyomlz games.
The Gragons is Tiago Chefe's creation. It is a fantasy adventure game in which there are little monsters appearing in your world and no one knows why or how. Only you can discover why they appeared and why they are attacking your world. And only you can stop them.
Karmaka is a competitive card game created by Eddy Boxerman who also created Osmos. It is played out over multiple "lives." Players begin the game as "lowly" Dung Beetles. In life after life, ie. hand after each hand, they work their way to the Karmic Ladder. The idea is to see who will first reach Transcendence! You score points to ascend, while sowing the seeds of your next life, and possibly sabotaging your opponent. But remember, what goes around comes around, and every action comes with consequences…
The Hex is Daniel Mullins creation. The setting is a creaky old tavern, in a dusty corner of the video-game universe, where a storm is raging. The barkeep gets a patchy phone call. It's hard to tell what the caller is saying, but this much is clear: someone in this tavern is planning a murder. There are 6 patrons of the tavern; all of whom are videogame genre stereotypes gone wrong. By exploring their memories, you may discover the identity of the murderer… or you may find a much darker secret.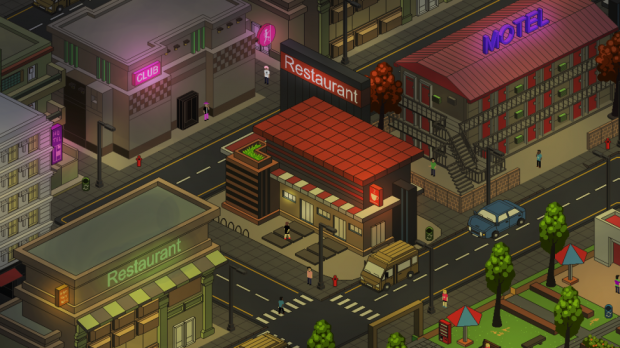 With Triple X Tycoon®, players will get to experience the highs and lows of the adult entertainment industry from behind the scenes. The game features random events that may affect the growth of your studio or hinder performers. Volatile consumer trends are the norm. Extravagant award shows are commonplace, even performers come and go as time pushes on in an industry that makes big money on erotic indulgence. Created by Christon.
Tatsu is a new hit board game created by Blue Line Game Studios, owned by Sean Colombo. It is based on a Japanese legend of a great battle between two mighty Dragon Lord armies locked in combat on the peaks of Mount Hotaka, competing to win the hand of the Princess Kushinada, the last and most beautiful of eight sisters. A battle so ferocious, that the villagers fearing for their lives, acquire the help of a powerful Wizard, who casts a spell over the Dragon Lords to keep them imprisoned in a circle of combat and to be freed only at the battle's end. Features include Steam trading cards, badges, backgrounds, and emoticons.
This is a Math game by Fury Game. It plays on Windows, Mac, and Linux platforms. It is a single-player game in 2D, with only an English version for now. You can find the game developer, Writkas here.
A Noble Circle is a game about a bouncing circle. Yes, you read right. A bouncing circle. And it's very interesting. According to game developer Amir Rajan, it's a game based on rhythm that was inspired by the satirical novella, "Flatland," By Edwin Abbott.  Rajan is also the creator of The Dark Room.
Subnet is a stealth, hacking, and parkour game with a first person perspective, incorporating freestyle gameplay in a futuristic, dystopian England. It's Nineteen Stone Ninjas' current work-in-progress, with work commencing in late 2013, and continuing on Livecoding.tv. You can find him under the username, Spikeh
Rogue Fleet is a multiplayer team-based game about spaceships combat. Imagine "World of Warships" mixed with "Dreadnought," then add an "Homeworld" feel to it. Each ship in the game have different gameplay. The smaller ships rely on fast decision-making from the player, then as you choose bigger and bigger ships, the focus will shift towards long term strategic planning. Tactical players who carefully plan their next move will love this game. SionoiS, the creator of the game, discusses the development of the game, check him out here.
Galactic Tactical Fighters Online is a networked multiplayer dual stick arena space shooter where pilots multitask between navigating an asteroid field, and manually steering rockets into their opponents. The game is being developed single-handedly by moatdd, using Unity 5.
Shine is a unique puzzle game based on light and colors that will take you for an unforgettable travel in space! Explore different planets and resolve challenging puzzles to bring the light back, all the while listening to beautiful music. Shine is the creation of Flawyte.
BSOD, which is a pun for the dreaded "Blue Screen of Death," is a virtual hacking game with features like Brute-forcing and in-game programming. It is a network-based hacking game in which you can find certain items on ftp servers you've hacked or other people, to help you win the game, by building up firewalls or buying skill points to increase efficiency of your attacks. BSOD is developed on LiveEdu by Brodie124..
You are at the helm of a company – you can grow it into an empire. You can own dozens of ships, mines, factories…Helium Rain gives you an empire to build, but you will need to claim it for yourself, and defend it against your competitors. It's up to you to decide if you will trade resources, start wars, or avoid trouble… The game is built for high-end Windows and Linux computers. Helium Rain is being made by Niavok.
Become a Flappy Defense master by playing Flappy Defense. You can fire Cannonballs, destroy Bosses and upgrade weapons in this epic defense game. You can also destroy Birds by shooting off cannonballs from your customizable pipe. Compete with your friends to claim bragging rights by hitting an all-time top score in the Leaderboards! Never stop fighting the oncoming waves to become a Flappy Defense Master! Dyad Games are the game developers.
Beyond Assassin is a tactical strategy game built on Slick 2D Engine (Java). IDE: NetBeans; Graphics Editors: Paint.NET, Inkscape; UML: Violet UML Editor; Map Editor: Tiled; with Music by Enigma.
The Neon Tanks game is based on two teams, red and blue, which have to capture their enemy's flag and take it to the allied base. Players participate in massive battles in a TRON-like environment featuring–you guessed it–tanks! In all varieties! This is a game for all devices with windows 10: PC, tablets and mobile.
Frinlet is a WebGL exploration and discovery game with peer2peer multiplayer. The gameplay is going to be heavily based around adventure, exploration, discovery, and collection. It is being developed by Frinlet.
Gothic Online is a multiplayer platform with Squirrel scripts. It also comes with support for external modules so you can implement whatever you want! Gothic Online is the creation of epryka.
Sheep Farm Simulator is a game about raising sheep. Build your farm from the ground up, protect your sheep from wolves and other threats, and sell goods and resources on the market to fund your growing operation. Dabble in the delicate art of genetics to create the ultimate sheep that produces optimal amounts of wool and mutton, or just turn them all into cows if that's more your thing. This game is developed by Computerology.
Ben Garcia, developer of this 3D LEGO racing game is attempting to make a split screen racing game like the old Lego game Drome Racers. Players will be able to build a car with Lego Technic pieces, and then race them in a physics-based race. Think Drome Racers meets SPORE.
This Zelda-like 2D game will follow its predecessor, minus the flaws. This version will be the opportunity for players to relive the adventure in a brand new way, or to discover it for the first time if you've never played it before. New graphical elements and music will also accompany you throughout the game. Zelda games are created by Christopho.
And that's it! The 24 Upcoming Indie Games Which Can Beat Pokemon Go.
So do you think any game can beat Pokémon Go? What about these 24? Please share your thoughts in the Comments box below. Are you convinced that the games will beat Pokemon Go? If so, why? And, if you think the other way around, then also, please comment and let us know your line of thinking.